39 of our current Syntax group travelled down to the Chiltern Hills in Berkshire for their Qualifying expedition of the Bronze Duke of Edinburgh's Award. The assessment took place across the beautiful counties of Oxfordshire, Buckinghamshire & Berkshire, in the region of Henley on Thames, Christmas Common, Watlington and the surrounding areas. The weather was picture perfect and they were all set for a challenging yet enjoyable adventure!
The group arrived well prepared having recently completing their Bronze Practice; their packing and carrying of kit and equipment was very good. The two days consisted of scorching sun with 30 degree heat, dry and sunny weather conditions all weekend with a little sting in the tail….a tropical downpour in the final hour on day two!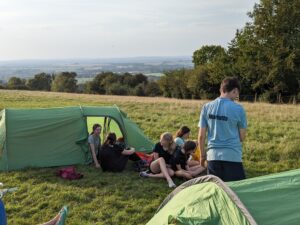 Day one started from Nettlebed heading north through Russell's Water and through Christmas common. The terrain was a mix of open rolling countryside and woodland with footpaths, bridleways, and byways. The evening was hot and sticky and remained dry with no breeze/wind. Tents were put up quickly and the group set about preparing the evening meal – for some the highlight of the day. The range of food was quite spectacular and there are clearly a number of budding chefs quite happy cooking in the outdoor kitchen.
Day two started from the campsite at Watlington farm, heading east to Ibstone Common to the finish at Cadmore End. There was a good mix of rolling, open countryside and woodland and the groups really did see the best of what the Chiltern Hills offers.
The assessors were very impressed with the students, stating that they were "quiet, motivated, incredibly well behaved and respected each other and the countryside over both days of their assessment". The students maintained an excellent level of motivation and seemed to enjoy all aspects of the countryside, including getting up close to a lone slow worm! The groups maintained a photo diary of their journeying through the countryside and were really able to capture the peace and tranquillity of the hills, a mere thirty minutes from central London.